Coffee-Based Culinary Delights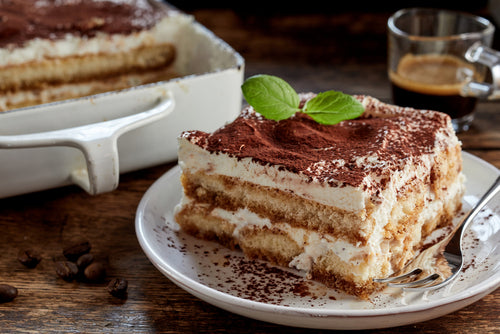 Coffee Tiramisu
       You don't have to travel all the way to Italy to enjoy amazing tiramisu! All you need is about a half-hour, some key ingredients, and some strong coffee! Maybe a little for yourself and a bit for the tiramisu. This dessert is rich, silky, decadent, and far simpler to prepare than it lets on. Keep reading to learn how to whip up a truly refreshing and delectable coffee tiramisu. 
Serves: 6
Rough Preparation Time: 30 minutes
What you will need:
1 ¾ cups of strong coffee, espresso is a great choice!
2 tablespoons of unsweetened cocoa powder
2 tablespoons of cognac or rum (feel free to leave these out if you'd prefer an alcohol-free tiramisu!)
8 ounces of mascarpone
19 ounces of double cream
2.5 ounces of marsala
24 or so ladyfingers
1-2 ounces of chocolate
5 tbsp of granulated sugar
1 tsp of vanilla extract
Eggbeater or electric mixer
Large bowl
Medium bowl
2-quart baking sheet or 8 x8 dish
Sifter
Plastic wrap
How to make coffee tiramisu
First, add your cream and begin to mix or beat it before adding in your vanilla extract, sugar, marsala, and mascarpone. Beat and mix until soft, fluffy peaks begin to form in the bowl.
Next, add your coffee of choice be it espresso or another strong coffee into your medium bowl, and add your rum or liqueur of choice. Let this mixture sit until a little further down the line there.
Now, with your sifter, give your baking sheet or dish a dusting with the cocoa powder.
Then, take one ladyfinger at a time and dip them into the coffee-liqueur mixture you mixed before. Just dip them a little bit as they will soak quickly and will potentially fall apart. Line your baking sheet or dish with the ladyfingers forming layers. Spread about half of your cream and mascarpone mix onto the ladyfingers. Any leftover ladyfingers you may have can be used to build another layer, cover that layer with the mascarpone mixture, too!
Next, if you have leftover cocoa powder give the top layer a nice dusting. Otherwise, you can break apart or shave your chocolate off onto the top layer for a decadent top flourish.
Finally, Using your plastic wrap, cover your baking sheet or dish, and let your tiramisu build in complexity by chilling it in the fridge for 4-24 hours. When time is up, your coffee tiramisu is ready to be enjoyed!
 Coffee Tiramisu Your Way
       Give this recipe a try to prepare a rich, delicious, and cool dessert dish. Coffee tiramisu is a perfect after-dinner treat, especially alongside choice aperitifs or a cup of black coffee to round off the evening. This dish is sure to be the star of your next gathering or dinner party. 
Best ever tiramisu. (n.d.). BBC Good Food. https://www.bbcgoodfood.com/recipes/best-ever-tiramisu
Easy Tiramisu. (2020, January 31). Tastes Better from Scratch. https://tastesbetterfromscratch.com/easy-tiramisu/
Roman, A. (n.d.). Classic Tiramisù Recipe. NYT Cooking. https://cooking.nytimes.com/recipes/1018684-classic-tiramisu
Coffee Brownies
       Coffee and brownies. Could there be a better combination? Well, how about coffee brownies? That's right! Brownies baked with coffee as one of the key ingredients! They are just as good, if not better than they sound and they do sound pretty delicious. The innervating and roasty flavors of coffee along with the thick, chewy, and chocolatey goodness of brownies all together in one spectacular treat. Keep reading to learn how to prepare the extraordinary coffee brownies. Once you give these a try you will have your new go-to dessert!
Yields: 12-18 brownies
 Rough Preparation Time: 30-40 minutes, including prep and bake time
 What You Will Need:
2 cups of granulated sugar
4 eggs
1 ½ cups of flour
1 cup of melted salted butter
⅓ cup of espresso powder or instant coffee powder 
1 cup of unsweetened cocoa power
Mixing bowl
9 x 13 baking pan 
Sea salt
Parchment paper
Eggbeater or electric mixture
 How To Prepare Coffee Brownies
First, make sure to preheat your oven to 350 degrees while you ready the other ingredients.
Then, melt the butter, add your sugar and pour the mixture into your mixing bowl. 
Now, the party in the mixing bowl begins! Add your eggs, flour, cocoa powder, espresso powder, and a little bit of sea salt, and mix the whole thing up. Feel free to add a bit more chocolate or even a shot or two of espresso to add some complexity and caffeine-goodness to your brownies!
Next, line your baking pan with your parchment paper and pour in your brownie mix. 
Get ready to bake! Place your baking pan full of brownie mix and bake for about 30 minutes.
Finally, enjoy some warm, fresh, rich, and truly delicious coffee brownies!
Coffee Cheesecake
        Consider cheesecake. It is rich, silky, creamy, and has that spectacular cheesiness-along-with-sweetness flavor palette that is savory, superb, and devilishly addicting. Now, let's consider this; coffee. It's roasty, toasty, innervating, energizing, and hosts myriad aromas and flavor palettes to enjoy. But, how about we combine these two magnificent treats together in one dynamite combination? The result? One of the most illustrious desserts you will have the pleasure to enjoy. We will be providing a keen no-bake recipe for our folks at home who may not have an oven. Keep reading to learn how to prepare coffee cheesecake (you can thank us later!).
Serves: 8
Rough Preparation Time: 20 minutes for prep and 4 hours for the resting time
What You Will Need:
The Cake Base
200 grams of cookie, biscuit, or wafers (it's up to you!)
¼ cup of melted butter
2 tablespoons of strong coffee of your choice, espresso is a great choice but so too is cold brew coffee!
Cream Cheese Filling
14 ½ ounces of cream cheese
¼ cup of strong coffee, once again, espresso or cold brew work wonders!
1 ½ cups of cream
¾ cups of sugar
Additional Ingredients
Medium Mixing bowl
Large mixing bowl
Eggbeater or electric mixer
Cake pan
Plastic wrap
2 ½ tablespoons of milk
1 ¼ tablespoon of powdered gelatine
Small pot
How To Prepare The No-Bake Coffee Cheesecake
First, mix your chosen crumb type (cookie, biscuit, wafer, etc), melted butter, and the first batch of coffee. Line your cake pan with plastic wrap and press your cake base mix into the pan. Let the whole thing chill out in the fridge for a bit.
Next, combine your cream cheese ingredients together in your medium bowl and mix and beat before leaving this bowl off to the side until a little further down the line.
Then, use your large bowl to mix and beat the cold cream until stiff peaks form before setting this bowl aside for a bit, too.
Add your milk and gelatin to your small pot and let it stand for a minute before heating it on low heat until the gelatin melts. Stir for two minutes and remove from heat and add in a tablespoon of your cream cheese mix and stir. Next, mix the gelatin mixture in with the rest of your cream cheese mix.
Now, it is time to remove your cake base from the fridge where it has been chilling. Use a spoon to fill the cake base with your cheesecake filling. Now, cover the whole thing with your plastic wrap and place it back in the fridge for 4 to 24 hours.
Finally, pepper the top with cocoa powder or your chocolate shavings before experiencing your amazing coffee cheesecake!
Decadent, delicious, and truly spectacular
     There are few pleasures in life better than a slice of this superb no-bake coffee cheesecake. This cheesecake is excellent alongside your favorite coffee brew style. Cold-brew, house coffee, espresso, or even decaf all pair excellently with this rich, silky, and delicious dessert! So why not give this extraordinary dish a try? You may just discover your new favorite guilty pleasure.
References
Best ever tiramisu. (n.d.). BBC Good Food. https://www.bbcgoodfood.com/recipes/best-ever-tiramisu
Easy Tiramisu. (2020, January 31). Tastes Better from Scratch. https://tastesbetterfromscratch.com/easy-tiramisu/
Roman, A. (n.d.). Classic Tiramisù Recipe. NYT Cooking. https://cooking.nytimes.com/recipes/1018684-classic-tiramisu
Baked Coffee Cheesecake Recipe {Step-by-Step Photos}. (2021, June 15). Confessions of a Baking Queen. https://confessionsofabakingqueen.com/coffee-cheesecake/
Coffee Cheesecake in 4 Easy Steps. (2018, November 1). Neils Healthy Meals. https://neilshealthymeals.com/coffee-cheesecake-in-4-easy-steps/
No-Bake Coffee Cheesecake. (2021, March 3). An Italian in My Kitchen. https://anitalianinmykitchen.com/coffee-cheesecake/